THE UNIFIER IN UNIFIED COMMUNICATIONS
CallTower Connect simplifies the set-up and management of CallTower services facilitated within one easy to use web or mobile application. Manage Cisco, Microsoft Skype for Business, Email and Conferencing solutions interchangeably by user based within a location. CallTower Connect is the unifier in unified communications. In May 2016, CallTower Connect updates increased ease of use, updated provisioning options, expanded offerings and much, much, more....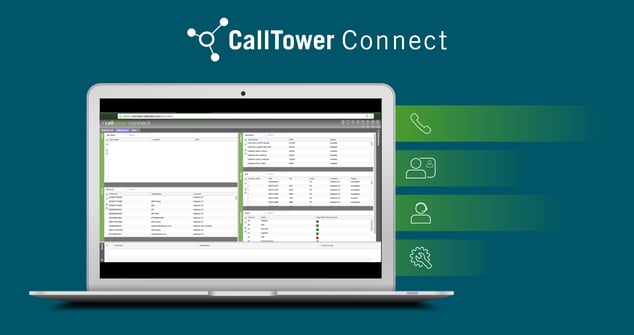 CALLTOWER CONNECT USER MOBILE
CallTower users can download a free mobile app, CallTower Connect User Mobile, which is available in App Stores from Apple and Google. This easy to use application will help you stay connected to your CallTower services where ever you are. Access the power of your Corporate Directory and make a call or send an email with one click. No more worrying about constantly updating the built in address book in your mobile phone as the corporate directory is updated by your CallTower Connect administrator in real time.
CONNECT PROVISIONING IMPROVEMENTS
Skype Caller ID Redundancy – To ensure that constant availability of Skype Caller ID, additional redundancy has been added when Caller ID is provisioned.
Admin is now able to remove 3rd party sip phone from user in Connect and completes without error.
Delete Pickup Group now has a warning pop-up to eliminate accidentally deletion of the group.
Creating a Branch Page on an IVR now allows the default to be Directory listing.
Cisco full user with Skype non-voice plan can now be changed to a Skype Voice Plan.
DIDs can no longer be added to a location if the 911 address is incomplete or not valid.
Users configured with multiple phones in different locations can now change their DIDs.
DNs that include the following patterns of 911 are no longer allowed (81911*, 91911*, 9911*, 8911*,911*,1911*)
Admin can now add phone to the user if the user is in a separate location from the phone.
Want to learn more?