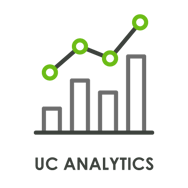 In March, 2017, CallTower introduced UC Analytics, a powerful advanced Skype4B UC reporting and analytics solution that produces real-time operational intelligence to help you make decisions faster.
This September, we are proud to introduce the next generation, UC Analytics 2.0 (launch date September 22nd, 2017).
According to a 2017 InfoTrack survey for UC, approximately 75% of U.S. enterprises studied are conducting Microsoft Skype for Business trials. Think about that for a moment…that's a big number!
Today, it's not a choice of when you're going to adopt a unified communications solution, it is a question of which UC solution works best for your business. Based on ease of adoption and leveraging scalable and accessible workforce technology, Microsoft is well positioned to dominate the UC industry. CallTower is a Microsoft Gold Partner. Microsoft has partners with CallTower to deliver enterprise grade voice with robust feature integrations.
UC Analytics seamlessly provides you with granular Skype for Business details through CallTower Connect. This key UCaaS integration enables you to more strategically achieve company goals. You can dive into IM/Presence reporting, activity by medium and meeting type, as well as build and schedule your own reports based on your business requirements.
UC Analytics 2.0 delivers more detailed reporting:
Schedule report to be emailed out to MPOC
Data on response groups
Survey results (post call quality)
IM/Chat, Video, presence
Meeting types
Hunt Groups (service type, user reports)
Ready to learn more?