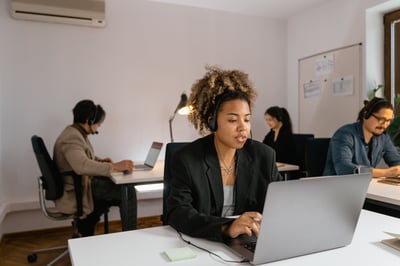 Your company's contact center makes a first and lasting impression of your company. Your customer's experience tells them much about the kind of experience they can expect if they choose to do business with you. When you use contact center as a service (CCaaS) software, you're giving your call center representatives tools and resources that will enhance your customers' experience, making your call center employees' jobs more rewarding, and improving your bottom line.

CCaaS is an acronym for contact center as a service. These are cloud-based software solutions used by inbound and outbound teams to provide an overall better customer experience — while hosting your environment in the cloud rather than on servers at your place of business. The main purpose of CCaaS is to route contacts and keep track of interactions using an organized software.
How CCaaS Works
A contact center is a hive of activity. A busy call center manages hundreds, or even thousands, of calls during the course of a day. CCaaS is a cloud-based customer experience software solution that gives contact centers the software tools call agents need to function efficiently. With CCaaS, you won't have to deal with complex hardware or challenging setups because it works with VoIP technology (voice over internet protocol).

Contact center as a service can consist of on-premise software, but it's becoming more common for call centers to use cloud-based phone systems and software. In the latter case, cloud-based software vendors deliver out-of-the-box software solutions so call centers can customize their workflows according to their needs. CCaaS reduces your call center's need for development and cuts costs at the same time. The initial investment costs for CCaaS are lower than using traditional phone lines for call centers. Another big attraction for call centers is the ongoing costs which are subscription-based.

Call centers function best when call agents have a variety of phone system features to use like call routing, call queue, call recording, hold music, interactive voice response, etc. Software solutions, along with a cloud-based phone system, expand the functionality of call centers.
CCaaS Benefits
CCaaS brings many benefits of its own.
Improve customer experience: Competition is heavy for every industry and improving the customer experience is essential to providing customer service. Customers expect to get instant communication and have their problems resolved quickly. Call agents can more easily give off the impression that they're knowledgeable and helpful.
Desktop notifications: Gives call agents instant notifications about incoming calls and there is no switching between the phone and computer. Call agents can immediately respond to customers or other call agents and you won't have to worry about missing calls.
Call center features: Offers many call center features like call routing, IVR, voicemail, and call whispering.
Capability to work with software integrations-Seamlessly consolidate data with CRM, helpdesk, eCommerce, and other business software solutions.
Quickly and easily set up a call center: Gives you the ability to set up a call center quickly and easily. Makes it possible to set up remote teams and distributed teams and scale the number of call agents up or down at will.
Innovation: The best CCaaS providers are continually working on innovation to keep up with the demand for improving functionality and customer experience. Instant feedback helps them keep up with industry trends.
Cost-effective: Lower costs for equipment, installation, maintenance, and ongoing costs. CCaaS also costs less for tech support and keeping programs updated. The CCaaS provider takes care of administrative costs like licensing and troubleshooting so you don't have to.
CCaaS Features
CCaaS puts all the software solutions you've been dreaming about right at your call agents' fingertips. Imagine being able to give your call center these capabilities in addition to your regular phone system features:
CRM
Call analytics
Artificial intelligence
Automated sales processes
Helpdesk automation
Call tagging
Productivity
Surveys
Quality Assurance
Call agents can use cloud-based software in your on-premise location or as part of a remote team or distributed team. They only need access to the internet and credentials to log in. CCaaS simplifies managing your call center. Everything is bundled into a single solution.
For a free consultation regarding CallTower's CCaaS solution, CT Cloud Contact Center, please click on the logo below: