Microsoft Skype for Business represent a transformational shift across every level of business communications. This shift will change how IT teams support and manage business communication technologies. A successful UC deployment starts with understanding the overall value of the solution as a broader productivity stack.
More than 50% of enterprise voice is ending up on a conferencing asset, on a mixing plan.
If your PBX is sending all of your traffic to a conferencing bridge, maybe you should flip your architecture and make your meeting asset the center of the UC deployment discussion.
Voice is a complex type of deployment, whether it is for a multi-location office or single office. Microsoft is just entering into the PBX and PSTN space and relies on strategic hosted partners to manage this feature and to provide those complex designs. Microsoft adds the core product and voice super-sizes it gives a full business-ready solution. The UC voice component is more than making and receiving calls, it's unified messaging, speech to text, call recording, auto attendant, CRM integration, contact center and other custom feature integrations.
For companies looking to implement a Microsoft unified communications Office 365 phone solution (Skype for Business) there are several deployment options
MICROSOFT PUBLIC CLOUD – Customers go straight to Microsoft for Skype for Business Online services
ON PREMISE - Customer built, maintained and deployed
PARTNER HOSTED – partner hosts and customer can leverage the vast network to manage customization, quality of service and support
HYBRID – a seamless fusion between partner hosted/on premise and the Microsoft public cloud.
MICROSOFT PUBLIC CLOUD
This plan utilizes Microsoft E5 + Calling Plan or step up plan to add Cloud PBX and Calling Plan. Microsoft Skype for Business Online is hosted Skype for Business through Office 365. It delivers a core set of features in a simple to use single portal that controls email and phone system infrastructure. Skype for Business Online is missing several key enterprise voice features that are available through on premise and partner hosted options. Besides missing features, it gives you the least amount of control over customizations on how the phone system works.
Pros:
One portal in Office 365 for email and phone system

Easy to setup and maintain

Minimal Infrastructure upgrades needed

Lowest expertise needed for use and maintenance

Low total cost of ownership
Cons:
Expensive when compared to third party hosting

Limited domestic and International calling plans

Missing major features required for most enterprise setups

Minimal control over upgrades and customization

New to market and not fully tested or thoroughly reviewed
What type of company does It work best for? Smaller companies that desires a highly collaborative workforce, and doesn't have a current PBX system and/or conferencing solution in place, and does not require customization, integration, or enterprise voice features.
ON PREMISE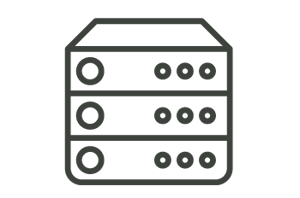 An on premise deployment, requires a higher capital expenditure on infrastructure and expertise in server configuration, maintenance and telephony and will require a greater total cost of ownership than a hosted solution. With this deployment the company retains total control over the platform, its settings and customization within the confines of Microsoft licensing and features. It also gives companies the freedom to implement changes and upgrade more rapidly, or slow the change management if needed. This level of control is generally only needed in niche scenarios, and the cost of the hardware and a full time Skype specialist generally doesn't justify the benefits.
Pros:
All features and functions are available to you

Total control of customizations and upgrade timing

Customizable security options
Cons:
High infrastructure expenses

Redundancy and up-time

Full time solution engineer expert is needed

Higher total cost of ownership

Updates and upgrades to existing equipment are managed internally
What type of company does It work best for? Companies with high requirements on security and customization who can afford the setup and maintenance costs and staff.
PARTNER HOSTED - PRIVATE CLOUD/ MULTI-TENANT
This plan utilizes Microsoft E3 License + Skype4B Hosting Provider plan including features and usage with a Multi-Tenant and V-Dedicated Solution. In a hosted Skype for Business environment, you have minimal capital expenditure in initial setup. The only infrastructure required is a fast, stable internet connection, and the only hardware to be purchased is telephone handsets/headsets. The configuration, customization, training and support are managed by the hosted partner.
Pros:
Enterprise features and functions

Minimal infrastructure upgrades needed

Lowest total cost of ownership

Greatest variety of options in what you can purchase

Low expertise needed for use and maintenance
Cons:
Less secure than on premise

Minimal control over upgrades
What type of company does It work best for? Medium to large companies with high monthly telecommunication requirements who are looking for a completely hosted solution, need customizations and currently have none to very little infrastructure.
HYBRID DEPLOYMENTS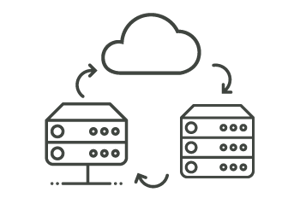 Hybrid deployments were created for companies with on premise and partner hosted requirements, like security, for some users and public cloud requirements for others. It is a seamless connection for all users to collaborate with one another with all feature requirements fully met. Hybrid deployments adds a higher level of complexity. There must be connectivity between two systems to maintain a seamless experience for the users. Deployment, configuration and on-going support of that takes an experienced group of engineers.
Pros
Enables a migration path to fully hosted solution

Does not require a full on premise Skype4B Server deployment

Worldwide availability

Carrier grade redundancy and resiliency
Cons
High infrastructure expenses

Full time solutions engineer expert is needed

Overall much higher total cost of ownership than hosted solutions

Extremely expensive and complex to implement redundancy
What type of company does It work best for? Mid-sized to Enterprise businesses that wish to leverage Office 365 Cloud PBX with required custom dialing plans, rates, and restrictions
ADOPTION
The companies that receive the highest level of adoption and satisfaction have a thorough understanding of their current infrastructure and network requirements, their workforce needs, identified key feature sets, chose a vendor to partner with and together selected the best deployment plan to exceed expectations for short term and long term objectives.
Ready to learn more?