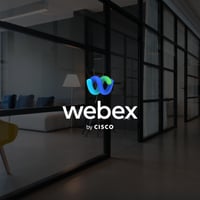 The Webex experience is heating up in 2021, with more exciting features for users to explore. Recently, the Cisco Webex team announced the arrival of a range of new features to help employees work more efficiently in hybrid environments.

The highlights span from zero-trust encryption for your meetings, devices, and personal rooms, to extended language support for the Webex Assistant designed for modern devices. Let's take a closer look.
Webex Meetings, Events and More
The first update is for Webex Meetings. Slido polls are now available as a fun way to add visual and interactive experiences to the Webex meeting environment. Webex also announced the arrival of a new closed-captioning solution, available at the click of a button for users with hearing disabilities or language issues.

Webex also expended the Webex Events feature set, with the arrival of an enhanced video-first virtual event that's simple and efficient to use. The solution gives attendees, panelists and hosts access to new capabilities like modern scheduling, in-meeting reactions, Webex Assistant, gestures and more. Hosts can also choose between webinar mode to support 10,000 attendees, or webcast mode for up to 100,000 attendees.
In the messaging space, Webex announced the arrival of Secure B2B FedRAMP support for guest conversations and an expanded range of security solutions to cover all kinds of B2B discussions.
Webex Assistant Updates
Webex Assistant now includes French and Spanish language optiosn for devices. IT administrators can configure the Assistant to interact in the language of their choice. Additionally, Webex introduced the new "Watercooler Bot" integration, designed to help break the ice in the virtual meeting room, and get employees talking more consistently through the week.

Further integrations include new access to Google Drive ECM in desktop, and support for the Miro online collaborative whiteboard platform, which brings Teams together to brainstorm whenever and wherever they choose. Other new integrations include:
Mural: A digital workspace for visual collaboration where everyone can work together
Jibb: Share handwriting in any Webex space with whiteboard, pen or paper
Clixie: Import Webex recordings directly into the Clixie interactive platform and add interactive elements like contact forms, clickable elements and quizzes
Cyviz: Enable advanced visual collaboration from Webex Room Kit on video wall systems for immersive experiences
Upgrading the Webex Experience
The wide range of updates to the Cisco Webex ecosystem should significantly improve functionalities for all kinds of users. The Webex team also introduced a host of new control, security, and Edge services, such as:
Control Hub: For sorting deployed peripherals in the business
E2E verified ID: End-to-end verification for controlling who has access to information in your Cisco Webex environment
Troubleshooting for large meeting and events: New troubleshooting options for large meetings and events. This new capability allows users to work quickly with panelists and participants to troubleshoot issues
For more information on Cisco Webex and how it can be used as a powerful communication tool, please click the Cisco logo below for a free consultation from CallTower: