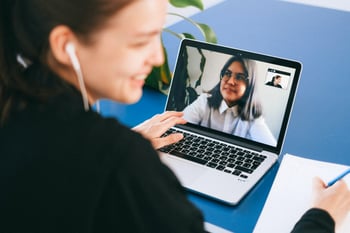 Some businesses and organizations have a preference for face-to-face meetings over video-based meetings using a video-based platform like Cisco Webex. However, did you know that over 30 percent of employees will waste a half-hour just by trying to find the location of the face-to-face meeting? With video-based platforms like Cisco Webex, you can hold virtual and collaborative meetings via any device, unlike meetings that take place in a physical conference space.
What is Cisco Webex?
Cisco Webex is one of the global leaders in video conferencing and collaboration. The Cisco Webex platform consists of multiple types of software, including Webex Meetings, Webex Devices, and Webex Teams. This comprehensive suite combines the web conferencing platform and a team collaboration tool from Cisco.
With the ability to host video meetings, share files, and exchange messages with other members of the team, your business or organization will have the opportunity to create the Unified Communications (UC) strategy you need to compete in your industry. With Cisco Webex, each meeting within your business or organization will have the ability to be supported by the Meetings or Teams applications.
Webex has a variety of features that will be made available to your business or organization. With so many features available, we understand how overwhelming it can be to select the best solution. Here are a few features that are offered by Cisco Webex:
Video Conferencing
Webex Meetings is the nucleus of the platform and has been one of the go-to video conferencing solutions for businesses and organizations of all sizes. Cisco Webex offers an incredible high-quality video and audio solution. Webex has a tailored layout that will increase the visibility of everyone who is participating in the video meeting, regardless of the number of participants.
Participants will also have the ability to easily navigate the layout during video meetings without causing any interruptions to the meeting. The high-quality video conferencing feature will result in video meetings that are effective, efficient, and engaging for everyone.
Webex Events
With the Cisco Webex Events feature, you will be able to host powerful and interactive online events and webinars that will engage your clients, customers, partners, prospects, etc. across the world. This feature allows you to host up to 3,000 attendees while utilizing various features that will keep all participants engaged. Some key features you can use to get the most out of every event or webinar session include the following:
Text chat
Polling
Question & Answer session
Webinar tools like whiteboarding and content sharing can also be utilized to make collaboration on Webex easier and more engaging. One of the most used and interesting features is Whiteboarding because it allows users to create annotations and/or illustrations. Users will have the opportunity to make their own inputs and view the inputs of others during the presentation and the meetings.
Mobility and Collaboration
Cisco Webex's ability to be used on multiple platforms will lead to an enhancement in the collaboration experience. WebEx also allows integrations with other popular and productivity tools. Cisco Webex can be used just as easily on a mobile device. Regardless of what operating system you choose to use, you will always have the features you need to host or participate in a meeting or webinar event. Your current geographic location is not a hurdle you will have to worry about because Cisco Webex can be accessed from all over the globe.
Cisco Webex had proven to be an incredibly effective tool for businesses and organizations in all industries, regardless of the size. When asked ''What is Cisco Webex?', there is no one answer. Cisco Webex is a long list of things. For more information on Cisco Webex and how it can be used as a powerful communication tool, please click the Cisco logo below for a free consultation from CallTower: