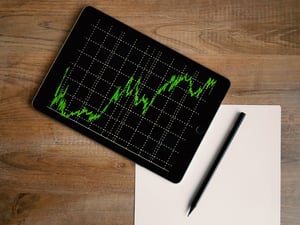 Every day we are moving further away from the idea that work must be carried out at a specific time and place to a reality where, with the right technology, your employees can get their work done anytime from anywhere. For this to work for your business, your employees need the right tools. There are many collaboration tools available, but when it comes to an all-in-one solution Microsoft Teams sits at the top of the pile. Let's look at four reasons why we think Microsoft Teams is the best collaboration software for creating a flexible working environment, so you can decide if it's right for your organization.

Your employees want to be able to communicate and collaborate at work in a way that is simple, flexible and effective. Microsoft Teams provides employees with the right tools to collaborate extensively from remote locations, from multiple devices, and without the risk of information silos or missed communications. By deploying Teams, you can:
Boost employee engagement
Improve productivity
Reduce costs
Empower your employees to be more flexible
Traditional collaboration is typically made up of face-to-face meetings, conversation via telephone, or email correspondence and multiple file attachments. With Microsoft Teams employees can seamlessly switch between multiple communication methods such as video conference calling, instant messaging, real-time document collaboration, and file sharing, individually or altogether as needed—all within a single window.
1. User Experience (UX)
Teams is designed to simplify group work with easy-to-use channels for group chats. Multiple channels can be set up in a click or two, conversations are in threads to make them easier to follow, and notifications can be set to pop up onscreen.

Further, thanks to integrations with Skype for Business, it only takes a single click to launch a voice or video call. The goal of Teams is to make it easy for your employees to work faster, smarter, and better together. Teams is designed with a simple and intuitive user interface, making it easy to learn and use so your employees can concentrate on performing their jobs more effectively.
2. One-Stop Collaboration Shop
Teams is more than a simple chat hub. The platform is integrated with Office 365, giving users easy access to Office productivity apps such as Excel and Word, as well as cloud storage and syncing solutions like SharePoint, Power BI, and Delve.

Microsoft recently announced that Skype for Business Online will be retired (don't worry, CallTower has all the info you need) in favor of telephony with Microsoft Teams. Bringing together different tools into all-purpose, omnichannel collaboration hubs. This will allow employees to switch seamlessly between video chat, instant messaging, email, and document collaboration.
3. Regular Updates
Like most of Microsoft's latest technology, Teams is an evolving solution constantly adding more apps, better integration, and further improvement every day. These include Office 365 apps like Excel and apps from other partners like Trello, InVision, and SurveyMonkey. There is a Teams app store where you can search for new apps, including a new Microsoft Graph-powered app called 'Who', enabling better search for people and topics across your organization. You can see a full list of apps and useful integrations right here.
4. Office 365 Adoption
Teams is included in your Office 365 subscription and is a great way to get your employees to move away from the more traditional email threads and multiple attachments and become more comfortable with a streamlined method of collaboration. Using Teams, staff can share files, organize meetings from their calendar, and sync with other Office apps like OneNote, OneDrive, and Skype for Business. This improves collaboration and communication while simultaneously aiding the adoption of Office 365.

The higher the adoption of Office 365 in your business the better return you will experience on your Microsoft investment – according to the Forrester report, a successful adoption of Office 365 can give your business a ROI of 162% within three years.
A coherent and standardized collaboration and communication process is essential to organizations of all sizes, across any industry. One of the ways that you can ensure your business can collaborate optimally is by using a platform that allows for a combination of communication methods. Microsoft Teams provides the best tools and solutions enabling your employees to collaborate overwork of any kind, whenever and wherever they are. If you want to learn more about Microsoft Teams or if you think Microsoft Teams can be an asset to your business, please click on the Teams logo below for a free consultation today: