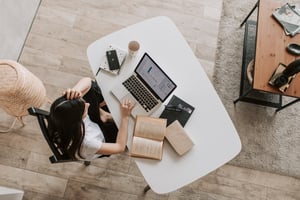 The coronavirus pandemic (COVID-19) changed in significant ways how we work, play, and live. The shut-downs of this past spring provided a jump-start in work-from-home strategies for companies that needed to make some or all of their workforces remote players. With promising vaccines to treat COVID-19 poised on the horizon, it is a good time to take a glimpse at what working from home will look like in the future. The following paragraphs provide a description of what work-life might be like post-pandemic based on several recent studies.
McKinsey & Co. Global Survey
McKinsey & Co. is an American global management consulting firm. The company recently surveyed 800 executives who work in a variety of industries. Their responses to the survey questions provide a peek into the trends the US can expect with respect to remote working. Executives indicated that they are interested in pursuing the following activities going forward:
Promoting automation
Shifting their workforces to remote or remote/hybrid models
Increasing the use of freelancers in the workforce
Relying more on artificial intelligence (AI) and machine learning.
The survey also found that since the COVID-19 pandemic 85% of the survey's respondents had increased digital communication and collaboration among their employees. Another 67% of the executives had increased their company's use of artificial intelligence and machine learning. Spearheading the digital/AI movement were the following industries:
Technology
Finance
Insurance.
Furthermore, 38% of McKinsey's respondents said they anticipate remote workers to work one or two days at home after the pandemic while only 19% of them expected remote work three or more days per week.
Boston Consulting Group
The Boston Consulting Group conducted a survey of 12,000 employees working remotely in the U.S., Germany, and India to gauge their attitudes about remote work. The study participants worked as engineers, HR staff, analysis, teachers, and healthcare workers. A majority of the survey respondents (75%) said they were able to remain productive and even enhance their production capability under remote conditions. This was especially the case for administrative tasks, developing presentations, and data analysis. Collaborative tasks received a lower favorability rating but still, around 51% of such respondents felt that they maintained or increased productivity.
Keeping co-workers connected with each other and ensuring they have the workplace technology that they need to do their jobs is every employer's challenge, whether employees remain 100% remote or in a remote/hybrid model.
A Leading Example: Cisco
Cisco is a network hardware company headquartered in San Jose, California (Silicon Valley). A large enterprise, the company employs more than 75,000 employees. Since the pandemic, 96% of its employees work remotely. The remote workers range from network engineers to sales teams.
It did not hurt Cisco's response to the pandemic that pre-pandemic 40% of its workforce already worked remotely. In practical terms, that meant Cisco had the infrastructure, technology, and procedures in place that allowed the company to expand the percentage of remote workers to 96%.
Cisco's HR department had already moved to the cloud and the company used AI tools to revamp its company's vision of work in the future. According to Cisco representatives, AI helps the company provide incentives to employees, energize innovation, and discover global talent assets.
Permanent Remote Status
Bear in mind, too, that the World Economic Forum predicts that the number of workers permanently in remote status will double by 2021, from 16.4% to 34.4%. These statistics are according to a survey conducted by U.S.-Based Enterprise Technology Research of 1,200 chief information officers working in various industry sectors throughout the world. If remote work continues at this pace, it will have a significant impact on urban centers, transportation (ridership is already considerably down in urban areas), consumer spending, and business footprints in commercial real estate. Naturally, remote work will impact the telecom industry with a greater reliance on electronic communications and virtual meetings/collaborations.
For additional perspective on the future of remote working for your firm, you may enjoy the August 2020 article from usnews.com entitled "One-Third of Companies Will Have Half of Workforce Remote Post-Pandemic, Study Finds".
One particular UCaaS solution that can benefit the collaborative efforts of remote work is Cisco HCS. Please click on the link below for a free consultation to see how Cisco HCS could help you and your business: