Powered by cloud technology, Cisco HCS delivers subscription-based, as-a-service solutions to businesses and organizations, including simplified IP-based voice, messaging, and video services. With the latest enhancements, businesses and organizations can scale HCS solutions to do the following:
Improve workplace efficiency
Increase IT flexibility
Simplify network management
It is no longer a luxury to support communication and collaboration needs for employees who are adjusting to a new work world; it has become a necessity. Cisco Hosted Collaboration Solution (HCS) can bring industry-leading capabilities to your business or organization.
The Future of Work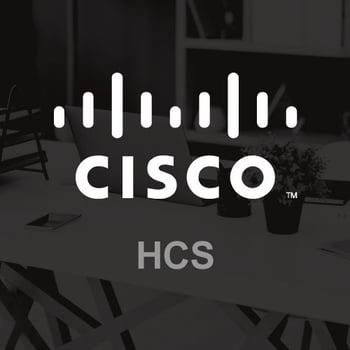 As more businesses and organizations are supporting remote work opportunities, the demand for communication and collaboration tools continues to rise. Cisco Hosted Collaboration Solution increases efficiencies in team collaboration. As more employees choose to work from home or have been asked to work from home by their employer, employees expect to have seamless communication and collaboration between their colleagues, suppliers, vendors, and customers.
At the same time, businesses and organizations may have voice and/or video communications systems that are hampering the ability to communicate and collaborate efficiently and effectively. Cisco Hosted Collaboration Solution provides an outlet that allows team members to share thoughts, brainstorm, make decisions, and provide support to customers when needed.
Collaboration Anywhere
As roles evolve, Cisco HCS continues to improve on existing features and implement new features. With Cisco HCS, your business or organization has the ability to customize the solution to provide the features that are right for you, including the following:
Voice-as-a-Service
Video-as-a-Service
Mobility-as-a-Service
Web conferencing
Integrated messaging
Cloud-based contact center
Ability to redirect incoming IP Calls
Voice and Video - With an improvement in voice and video features, your business or organization will have the tools it needs to communicate and collaborate with sophisticated voice services. Voice services include call processing, third-party integration, and extension mobility. Video calling services and video conferencing services include virtual meeting rooms and B2C and B2B calling models.
Cloud-Based Contact Center -

With a greater need for contact centers, one of the key features of Cisco HCS is the contact center feature. You will be able to serve customers better with a cloud-based contact center while helping your agents remain productive with various features like call routing, multi-channel support, and call campaigns.

Conferencing - With the conferencing feature, everyone can easily meet and manage their meetings and projects. This feature will allow team members to create projects, manage projects, and present them from anywhere in the world, regardless of the devices being used.
Managing Your Collaboration
With Cisco Hosted Collaboration Solution (HCS), you will have a provider to manage the critical aspects of your business. As a result of using Cisco Hosted Collaboration Solution, you will be able to do the following:
Simplify management: With Cisco HCS, your business or organization will be able to take complete control of your network. With this solution, you will have the tools and capabilities you need to ensure high-quality performances.
Improve efficiency: With a solution model like Cisco HCS, you can easily and quickly improve efficiency by only paying for the services you need.
Maximize agility and flexibility: When you can deliver communication and collaboration solutions that align with your business or organization's needs, you will be able to scale up or scale down with ease as your needs begin to change.
Your business or organization can completely revolutionize its voice and video services with Cisco Hosted Collaboration Solution (HCS) so you will have more time to focus on your business. Cisco Hosted Collaboration Solution (HCS) can give your business or organization a competitive advantage, regardless of what your future holds.
For more information on how this solution will allow you to leverage your current investments and access future applications, please click on the logo below for a free consultation from CallTower: