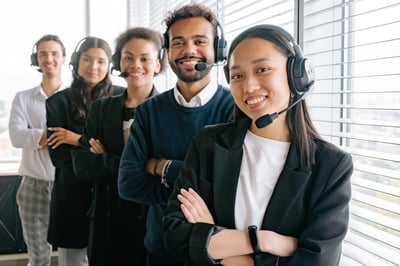 In today's business world, clients want instant feedback and timely results. In some instances, it is challenging to keep up with the demand being placed by customers. Companies can experience difficulties because they do not have enough personnel to perform their tasks and work together with the customers simultaneously.
The solution is to outsource a call center where all of the calls to the business are handled. Five9 is the top provider of cloud contact center software. Five9 helps you reimagine your customer experience and achieve solid business results. So, how can the Five9 Cloud Contact Center save you money?
Reduced Training Costs
Call centers have constantly tried to enhance agent satisfaction and reduce agent attrition because it results in higher operational and training costs and reduces the quality of customer experience. Five9 Cloud Contact Center software can get your contact center up and running in just a matter of hours. Supervisors can tutor agents from anywhere without a face-to-face meeting. Training costs and time are cut in half.
Flexibility
Agents can log in and take calls from anywhere. All that is needed is a computer, USB headset, and a reliable Internet connection. The Five9 work-from-home call center agent application is entirely browser-based. Even non-technical employees can set up, manage, and change sophisticated routing tactics, IVR scripts, and call prompts. You're just required to log in to Five9 on the web, then start communicating with your clients from anywhere on the globe.
Affordable Rates
Five9 provides a high-quality inbound call service center for an affordable monthly fee of as low as $185. This one low monthly price includes contact center software, softphones, CRM integration, reporting software, agent, and supervisor desktops. The fee is tailored according to your system's number of features, usage, and usage needed. You don't have to buy more to accommodate for maximum foretelling capacity or seasonal peaks.
Do More With Less
With virtual working environments, your contact center agents reap the benefits of working remotely. They don't have to worry about commuting daily, have flexibility in their everyday schedule, and have an overall better quality of life. This establishes a long-lasting positive relationship with staff members, which will be passed on to your prospects. For you, this means a reduction in the cost of equipment, bandwidth, and office space.
Tracking Prospects
Many businesses have different ways of tracking prospects. You may use an elaborate spreadsheet or Post-It notes, but you can also streamline. Spreadsheets can grow, and messages can become too much to handle. You can forget about following up a lead or a prospect who promised to call. Five9 software integrated with the CRM system develops an effective and incredible system to allow your agents to focus more on closing deals.
Provides Security to Sensitive Data
The Five9 architecture is built with firewalls, interference prevention, and a vulnerability management system to protect your data. The Five9 Cloud Security Office offers protection to your applications and operations against breaches and unpredictable cyber-attacks. You don't have to spend more on hiring cyber-security providers' services for your business.
A call center will serve as the main point of contact for a company. The agents who contact your clients via the phone represent the business, so it is important to hire qualified ones, not those who will do it for the least amount of money.
Five9 is the leading choice for all your advanced call center cloud computing and integration needs. With no capital expense or maintenance costs usually associated with premise-based systems, Five9 cloud computing solutions assist you to focus on customer service and establishing long-term brand loyalty. For a free consultation of Five9 Cloud Contact Center, please contact CallTower by clicking the Five9 logo below: