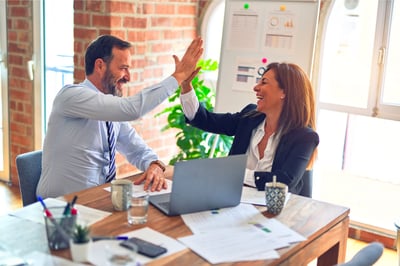 Establishing a teamwork culture that allows every employee to excel is more critical than ever. Today's collaboration tools are making this possible, even when some employees are working remotely.
If the past year has taught us anything, it is that more people need to come together. When employees decide to work towards the same goal and renounce atypical thinking —unbelievable things can happen. If there is too much rivalry behavior within the workplace, the entire business operation can be disrupted.
It is no mishap that collaboration and teamwork have become two of the key focal points as of late. More businesses and organizations have made changes to their workplace to encourage more teamwork and collaboration, including the implementation of co-working spaces. We understand that effective teamwork and collaboration are not always achievable in person.
Some situations may arise that will require employees to work together, while they are still apart. It does not matter if this is due to a major shift to remote work or because one or more employees are not able to come into the office. Many of today's collaboration tools have a greater focus on teamwork. In 2020, more businesses and organizations acquired collaboration solutions; many for the first time.
Collaboration Software for Teamwork
Many modern solutions focus on teamwork. With the choice between Microsoft Teams, Cisco Webex, CT Cloud Voice and various other Unified Communications as a Service (UCaaS) solutions, more businesses and organizations are positioning themselves in a better position to establish a teamwork culture. Since there are so many solutions to invest in, your business or organization needs to know which software will greatly impact your operations.
Here are some things you will need to consider before investing in one or more collaboration software:
How will the collaboration software be used?
How will the collaboration software be used with other tools and resources?
How will the collaboration software fit into your workplace's digital environment?
Establishing a Teamwork Culture
You should not expect to adopt a collaboration solution and expect teamwork to just happen with no work involved. Everyone has to put in the effort to ensure an effective teamwork culture is established. Everyone needs to gain an understanding of the collaboration solutions that will be used so they can buy in.
Poor collaboration and communication will hamper teamwork. While there are steps that can be taken to ensure effective internal and external collaboration, they both need to be supported by the right tools. One of the most important steps that need to be taken is to ensure employees have the resources and space they need to make collaboration happen.
Workplaces that use collaboration software to foster teamwork success will often benefit from the following:
Highly engaged employees
Happier employees
Highly productive employees
Teamwork and Collaboration
One of the main reasons many businesses and organizations do not have the teamwork culture they hoped to have is the lack of support for group efforts. A teamwork culture will be difficult to establish if a workplace is only focused on individual success and working apart. More people should be encouraged to work together because this will become a key part of the entire workplace culture.
Collaboration software like Microsoft Teams can change the way your employees work. When you provide everyone with the tools they need to collaborate and communicate in real-time, regardless of everyone's current location, you can help revolutionize your workplace. There is no hiding the impact of teamwork, and once the right tools are used, the benefits of teamwork will be amplified.
Promoting teamwork success will rely on shifts in the workplace. It is important to understand what it takes to strengthen teamwork in the workplace and what software can be used to magnify collaboration. If you are ready to transform your company culture by using collaboration software to improve teamwork, please arrange a free UCaaS consultation with CallTower by clicking on the Microsoft Teams logo below.