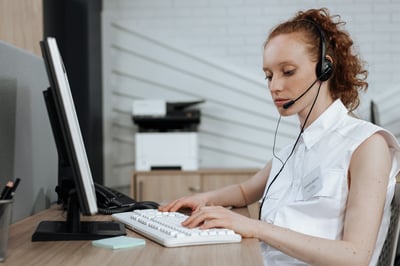 Current technological trends suggest that companies will continue to seek cost-effective ways to interact with their clients and customers online in 2022, significantly increasing the demand for Customer Relationship Management (CRM) options like CCaaS Software. As our digital world continues to evolve, Contact-Center-as-a- Service (CCaaS )solutions are quickly becoming the most logical choice for future customer support.
CCaaS solutions keep day to day operations running smoothly. Cloud-based solutions instantly cut costs on IT spending, support, and maintenance, while allowing companies to implement a user-friendly communication network for customer assistance. The call center software needs of businesses became even more complex during COVID-19, as organizations scrambled to upgrade their contact center infrastructure and combined their digital channels to tackle the online demand COVID-19 created.
The vast number of calls and inquiries companies received from customers online in the past two years have required more resources and faster solutions, and CCaaS technology has become a necessity for most employers. As cloud-based technology evolves in 2022, CCaaS solutions will advance even further, providing companies with the opportunity to retire the traditional model of the call center, and purchase tech capacity as needed. Read on to find out a few of the latest trends for the CCaaS industry in 2022, and how your business can utilize these changes to help your contact center serve your client base more efficiently.
CCaaS Software Will Become the Best Solution to Manage Remote Workers In 2022
COVID-19 changed the normal workspace for all employees and employers, for both B2B companies and consumer-based businesses. The past year has seen a huge increase in firms moving to cloud-based contact centers, utilizing CCaaS platforms like Microsoft Teams Contact Center Solution to manage customer interactions. CCaaS software creates a more accessible environment for remote workers, as working from home has become a necessary option for some employees. Analyst research shows there has been a 16.3% decline in traditional infrastructure for contact centers, while public cloud spending has surpassed $10 billion. CCaaS software allows you to move your brick and mortar based contact center to a cloud-based solution, eliminating the need for high capital investments, on-site hardware, and rental costs, while still giving your remote workers the tools they need to provide great customer service. Your CCaaS provider handles all the digital headaches associated with using the software, so your administration and employees can focus on more important aspects of the business, like meeting the needs of your customer base.
CCaaS Software Will Provide the Customer Service Experience Clients Expect In 2022
Smartphones, tablets, and other handheld devices have convinced consumers that customer service is only a click away. Customers want to be able to contact companies immediately, with short wait times and knowledgeable agents. Smarter companies anticipate this demand will only increase in the coming years. CCaaS software provides businesses with the capability of meeting these consumer demands in 2022 by offering:
Universal call routing and call queuing
Interactive voice response (IVR) and automatic call distribution (ACD)
Advance Self Service Tools, like live chat and chatbots
Intelligent virtual assistants to guide customer inquiries
These simple but prevalent cloud-based solutions will not only improve CRM, but provide data security, flexibility, and improved functionality for businesses that are seeking to provide an excellent customer service experience. As cloud migration continues to grow, companies will begin to shift to contact center solutions to offer customers more access to resolve customer service issues. AI-powered technology will enable businesses to be able to offer multichannel support with CCaaS software, routing customers to alternative solutions to address their concerns when traditional approaches won't work.
CCaaS is the customer service software of the future, offering employers the most logical answer to finding a flexible, adaptive model to handle the growing demand for accessible customer service online. For a free consultation to see which CCaaS solution would work best for your organization, please click on the CT Cloud Center logo below: